Starting your business with your domain name and extension is a great option as it will give your site more authority online and provide you more visibility on the target area you are aiming to impact. Today, we'll discuss the importance of a domain name and extension for your business, and why is MyHostingLive is the easiest alternative for obtaining a free .co domain along with your domain name in a matter of minutes.
Why is it Important to Choose a Domain Name and Domain Extension?
Having a domain name is essential if you want to focus on digital marketing. Via social networking sites, you may easily start a company or perhaps you already do, but can a generic name be successful? Just take a look at facebook.com or amazon.com, these popular domains are very widespread and can be easily identified because their domain name is the same one as the name of their brand, so it is very simple for their visitors to locate them and improves their users' experience.
Most successful websites have unique domain names because it makes easier the task of targeting the audience you want to reach and makes it simpler for your intended audience to distinguish your company and services from those of other websites that offer the same products or services (you don't want your customers to end up buying from your competitors because they got confused and couldn't identify your business).
What is the Difference Between .co and .com.co?
The extension .co is a generic TLD (top-level domain) and is used by companies (it is short for company), and .com.co is an extension used by Google in the country of Colombia.
Website creators base their domain extensions depending of the type of business they are running and the target audience they are trying to reach, so if you are running a company and just want to create a website for that company, .co is the generic top-level domain you are looking for, but if you want to promote a service or product in Colombia, .com.co domain name is the best option.
Domain Extensions: Gain visibility in local search results on Google!
The importance of your domain extension goes beyond what you think because search engines base their recommendations on certain areas depending on your domain extension. This doesn't apply to general extensions like .com, .net, .co, or .org, because those reach people globally and just tell the type of website you have, we are referring to the location extensions that reflect in which country is your business located.
If you want a .fr extension is because you want to offer your service in that country or because you want the information you are publishing on your site to be published for that population. The same happens for all other countries, for example, .us corresponds to the United States, .mx corresponds to Mexico, etc.
Now, if you use this wisely you can gain visibility or presence in local search results, grow your online presence, and have more chance of being seen by the global target audience you want to reach.
The good news is that with MyHostingLive this doesn't have to be difficult or expensive, keep reading to know more about our free domain name registration benefits, what your top-level domain includes, and how to get a new domain with us!
How do I Register a Domain in my Hosting Plan for Free?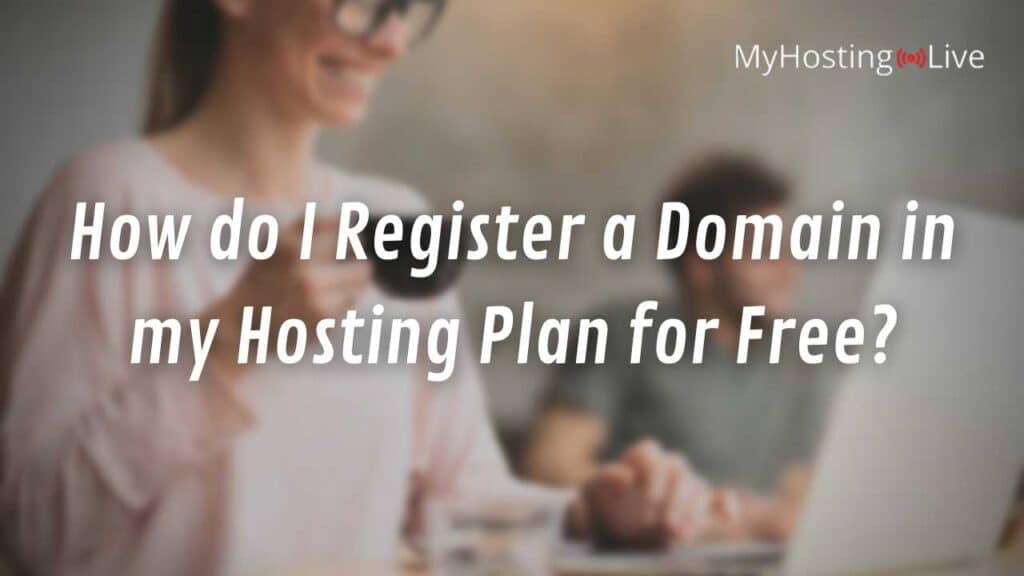 There are various ways to obtain domain names and extensions on the internet, the conventional method is buying a domain from an official provider, but this may be quite expensive and, in the worst scenario, lead to a commitment to recurring monthly payments.
Numerous websites might offer you cheaper prices or even free domain names, but most of them either offer short periods of free trials (where your website is deleted afterward if you don't start paying the renewal fees) or have multiple restrictions on how you can use their tools or resources (they call them premium features for you to pay extra to get them).
However, thanks to MyHostingLive's 100% free services you get to register your top-level domain name and extension with your free hosting plan without having to worry about your website being eliminated or having to pay high amounts of money.
Domain Registration Process with MyHostingLive
Visit the MyHostingLive website's official page from any browser or device. To do so, press the following button:
You will find an easy form to complete when you get there. The information you must fill out is both your domain name and the extension of your preference (later on you will be asked for your email address, your name, and some other important pieces of information to authenticate your hosting account).
Click on the "I will register for a free account to access the service" box to acknowledge that information.
Click on "Get started" and follow the instructions.
Benefits of MyHostingLive's Free Domain Registration Package
Your hosting plan with MyHostingLive includes free website builder resources and tools.
You get to select your new domain name, and the domain extension of your preference — you can choose a (.) co-domain name or any other from the eligible domains available —.
The security of your online business is a priority for us, that's why we have established free SSL certificates to secure our platform and your domain privacy. SSL protection encrypts all the information on your web page so you can rest assured your data is safe.
MyHostingLive includes a free dedicated IP address and has an easy setup for you to customize your site as you would like it to be.
This is the best co-domain alternative because it won't be canceled. We don't manage expiration dates!
Our service is 100% free, you can enjoy your domain without restrictions, additional fees, or free trials. There is no payment required!